---
Chag sameach to those observing and happy Holi to those celebrating! Here's a weekly round-up that's a bit shorter than the last few weeks. This one covers the following:
SC Senators aim to make all Palmetto State residents militia members
Court docs indicate attempted "alliance" between Oath Keepers, III%, and Proud Boys
Virginia sheriff's office and county militia hold joint gun raffle
---
SC Senators want to make everyone a militia member
SC State Senators Tom Corbin and Rex Rice have put forward bills that attempt to legally make everyone a member of a militia in order to avoid federal gun restrictions. Both state senators are from the Upstate of SC, which at one point was the heart of southeastern Tea Party activism after Obama's 2008 electoral victory. The bill, S. 614, has a section that reads,
The "unorganized militia" indicated here by Corbin is in reference to Title 25 of the state codes which has a clause about providing an "unorganized militia" to supplement the SC National Guard if the National Guard is not large enough in number. This is typically understood as for response to a foreign invasion.
It is perhaps also worth noting here that the South Carolina Constitution, Article I, Section 20 reads: "The military power of the State shall always be held in subordination to the civil authority and be governed by it." (This section is directly in Constitutional opposition to the notion of an 'unorganized militia' that exists as a private paramilitary organization.)
A 2013 version of a similar bill by Corbin, S 247: South Carolina Unorganized Militia, was never ratified. This new bill has the same text as the 2013 bill, with updated dates. The two can be compared below: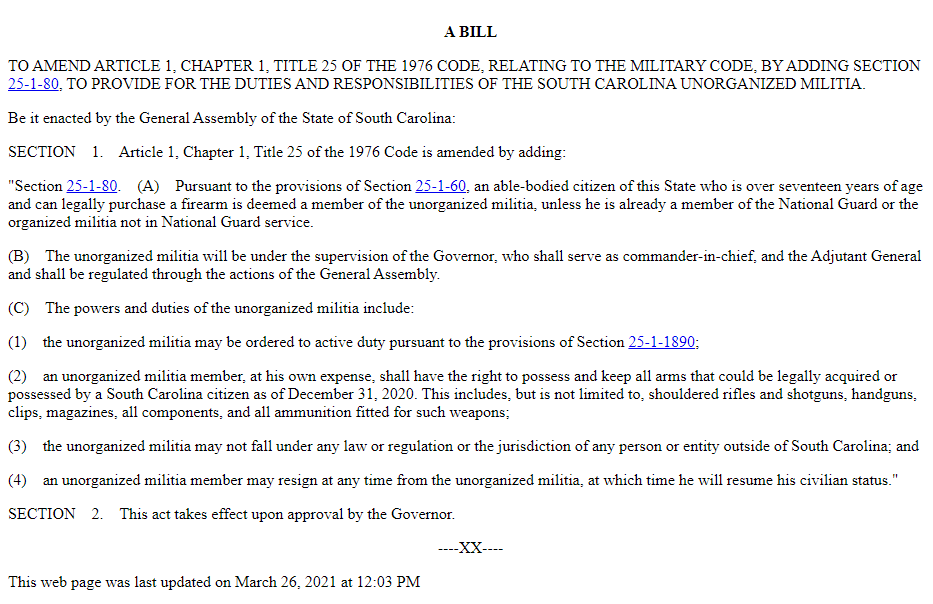 ---
Court docs reveal "alliance" between two militia groups and the Proud Boys ahead of J6 storming
According to discussions submitted in new court documents, an "alliance" was attempted between two militia groups and the Proud Boys ahead of their storming of the US Capitol Building. These types of records, which indicate coordination and premeditation, are crucial to the state in their case against many of those involved.
In these documents, Oath Keeper arrestee Kelly Meggs said over Facebook in December 2020 that he "organized an alliance between Oath Keepers, Florida 3%ers, and Proud Boys..to work together and shut this shit down".
Meggs was a general manager of a Honda dealership and in another message documented in the court filing said that "[Trump] wants us to make it wild that's what he's saying he called us all to the capitol and wants us to make it wild" ahead of the J6 storming. This marks another indicted rioter once again pointing to Trump's tweets in his own planning for the event.
Also this week, two accused Proud Boy leaders pled not guilty to charges associated with their involvement in the J6 storming. These men, Joe Biggs and Ethan Nordean, are known for their antics and violence. Biggs has a well-documented history of sexual and gendered violence, which includes threats against his ex to release revenge porn involving her, encouraging his followers to "punch a tranny", and tweeting a LOT about date rape involving Rohypnol. Ethan Nordean, who is also known as "Rufio Panman", was praised by Proud Boys founder and the founder of VICE News Gavin McInness for throwing a punch at a 2018 streetfight that he deemed a "turning point in [the Proud Boys'] war against antifa".
---
Other misc updates
Maxwell Wycoff, a Michigan-based member of a militia, was arrested this past week for converting a semi-automatic weapon into a fully-automatic one. He also was charged with illegal possession of a suppressor.
Christian Secor, a far-right activist who apparently spent over $3000 on purchases from "tactical gear retailers" recently and was initially suspected of 3-D printing a "ghost gun" receiver, was released from jail on bond while awaiting trial for his involvement in J6.
A Virginia militia and sheriff's office held a joint fundraiser a little over a week ago, raffling off a Henry rifle to raise money for both the sheriff's office and the militia group. The Virginia Attorney General, Mark R. Herring, issued a statement last October about a gun raffle held by a political campaign, indicating its illegality. Despite a request for comment, the AG has not detailed if this is permissible under state law.
---
Tech updates
Far-right groups are still using Facebook, despite the platform's crackdowns. These include QAnon propaganda groups, Boogaloo meme pages, or militia recruitment platforms. Avaaz has identified 267 groups still on the platform, and Tech Transparency Project released a comprehensive rundown of militia use of the platform.
---
Further reading
On the GoldCorp stickers left at Pelosi's and Schiff's offices (VICE)
---