---
After a hiatus last week, we catch up with two weeks' worth of weekly updates, including the following:
Texas MyMilitia poster plotted to blow up an Amazon data center
California Boogaloo adherents arrested for destroying evidence
Another Proud Boys leader revealed as a Fed
APC founder announces run for Michigan governor
III% members assault SC couple at gunpoint
Mother of Kyle Rittenhouse calls for audit of funds raised by Lin Wood
---
Key stories
Seth Aaron Pendley, a Texas militia adherent, was arrested this week for plotting to blow up an Amazon data center in Virginia. Pendley boasted about being at J6 for the storming of the US Capitol Building. He used the name "Dionysus" on MyMilitia, the popular militia recruitment site run by Josh Ellis. An article revealing this detail earned angry responses from site admins: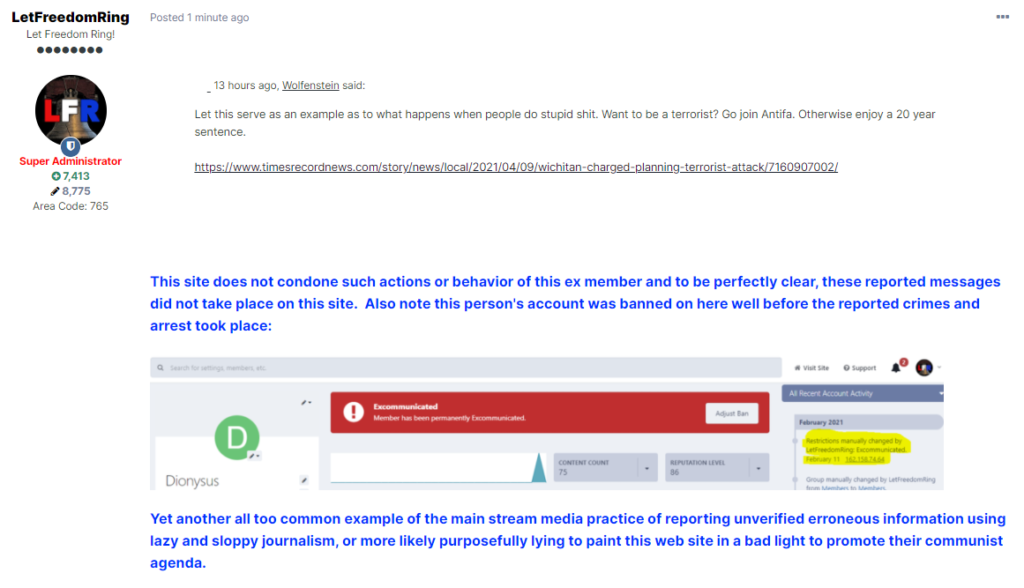 It also led to accusations from far-right Twitter users that MyMilitia works with the FBI because of Ellis' involvement in J6 planning. There is not yet any evidence this is actually the case.
Four Boogaloo adherents were arrested this week for obstructing a probe into the Bay Area Boogaloo killings of two police officers. The four men (Jessie Alexander Rush, Jesus Blancas, Simon Sage Ybarra, and Kenny Matthew Miksch) were part of a Boogaloo cell called the "Grizzly Scouts" and were charged for destroying digital evidence. All four men are from Northern California.
Joe Biggs, a prominent Proud Boys member who has been charged for his involvement in the storming of the US Capitol Building on J6, was revealed to have been a cooperating Federal informant in Florida. This news comes around a month after Proud Boys leader Enrique Tarrio was revealed to have had a cozy relationship with Federal agents, too.
A California police officer with Proud Boys ties was fired this week for his involvement with the group.
An Orange County Florida deputy's husband was revealed to be well-linked to far-right figures, including writing for Augustus Invictus' blog.
Ryan Kelley, the founder of the American Patriot Council, is running for governor of Michigan. He traveled to DC to take part in J6, is well-known by activists in his home state for launching rallies in defense of the 2nd Amendment alongside multiple accused Wolverine Watchmen members (at least half of those who were arrested attended APC events), and – bizarrely – defending Confederate monuments in Michigan, a state that both voted overwhelmingly for Lincoln and was a stalwart member of the Union during the Civil War. He and his wife also run a strange lifestyle channel on YouTube, which is how he announced his run for governor. Highly recommend reading MLive's report on this development, available here.
Around 21 March 2021, two men threatened a couple with a gun in downtown Columbia, South Carolina. The assailants were driving a car with a III% branded flag flying behind it.
Discord announced bans on another 30,000 accounts for extremist content, marking they continue to clear the far-right from their platform (though some remain).
---
Legal updates
Last week, it was revealed in court documents that Oath Keepers leader Stewart Rhodes told his followers "Trump better do his damn duty" around the storming of the US Capitol Building. He's just now starting to be scrutinized for his role in the event. Ronan Farrow, a reporter who has reported on J6 stormers, recounted this week that one of the stormers told him in an interview that he "studied the shape of [Farrow's] head" and then threatened to eat the face of a family member of Farrow's.
Taylor Parker-Dipeppe, a Floridian charged alongside three other members of Atomwaffen Division in early 2020 was awarded no jail time last week. Taylor has been in therapy since his arrest a year ago and some of his victims have said they are glad he is starting to turn his life around.
A Michigan judge dismissed terrorism charges against two men accused as part of the Whitmer plot and refused to charge a third for the ill-defined "terror" modality. The attorney of Paul Bellar, one of these three men, also stated in court this week "it's not illegal to be a member of a militia. Many people in Michigan would be arrested if it were." The men will still stand trial for other charges, including gang membership.
Noah Latham, the only one of five New England Minutemen to not plead guilty to charges related to the group showing up to stalk Black Lives Matter protests last summer, pled guilty last week. The militia group was responding to a Troy, New York BLM rally and Latham is a former soldier. The charges against Latham included his possession of a "ghost gun".
---
Missouri Senate Minutemen Bill
Speaking of "Minutemen", a proposed bill in the Missouri Senate, SB 528, seeks to formally establish an informal militia under the governor's command. The bill is sponsored by Bill White, a GOP Senator, and would make those who register for the volunteer militia exempt from taxation or registration requirements on their equipment. This unit would then be called "for use in defense during a state of emergency" at the governor's whim. The Maries County Sheriff made a statement to say the bill is redundant. White's bill also adds that the list of enrolled volunteers would remain secret, according to the text of the bill.
Like a similar bill (re)submitted in South Carolina a few weeks ago, the community has already expressed worries over this type of organization. Some have referred to it possibly becoming a "brownshirt type of organization". Some militia groups from out of state have already expressed their support for Missouri's bill.
---
Money drama
The mother of Kyle Rittenhouse, Wendy Rittenhouse, now claims that Lin Wood used her son for personal reasons. Wood used his position as one of Rittenhouse's lawyers to fundraise for a "#FightBack" campaign as part of Kyle's case. Wendy is now asking for an audit of the non-profit's fundraising efforts around her son's case, which she claims Wood et al used "to gain money, gain Twitter followers".
Oath Keepers founder and leader Stewart Rhodes is facing a divorce from his estranged wife, Tasha Adams, who is now seeking to fundraise for her legal fees via GoFundMe. In her fundraiser, she wrote that "It is certainly not easy to find a lawyer willing to go head to head against a person who is not only a graduate of Yale Law but also commands their own private army".
The Biden administration just announced a budget increase of $111M to combat 'domestic terrorism', which is split between the DoJ (over 90%) and the Department of Homeland Security. The bulk of new DHS funding is intended to expand on "research on the root causes of radicalization".
---
Further reading:
---