---
MilitiaWatch would like to extend our deepest condolences to the friends, family, and communities impacted by the brutal attacks on Atlanta-area spas this past week. It's an absolute tragedy and our hearts ache for those impacted.
This week, the update features the following and more:
Ammon Bundy spends night in jail for missing court date due to refusal to don mask
Texas III% member arrested in connection to J6 planned to use LLC to purchase weapons for militia group
Michigan militia was prepared to engage police or feds in combat, informant details
ODNI releases ridiculous 'terror' risk report
---
Ammon Bundy arrested, spends night in jail
Ammon Bundy, of the Bundy ranch family name and a national leader for the People's Rights Organization covered in this IREHR report, spent around 30 hours in jail this past week. He was arrested on a warrant after missing his trial due to his refusal to wear a mask to show up in court. There was much yelling surrounding his initial attempt to enter the court.
An Ada County commissioner asked the judge to 'accommodate' Bundy over the affair. Bundy told the judge that he was 'miserable' in jail and he posted two videos to his video hosting channels to complain about the situation.
Jails are admittedly quite miserable places, especially given their poor response regarding COVID-19. For example, at the end of last year, 1 in 5 prisoners actively had the virus. The same studies that discuss mental health regarding COVID-19 lockdown can also be applied directly to the entirety of the US prison system, all the time.
Speaking of jails, an alleged Aryan Brotherhood leader, Ronald Dean Yandell, sued the sheriff in Sacramento this week over the poor conditions of the county jail.
---
J6 updates
Guy Reffitt, a Capitol stormer turned in by his kids after he threatened them, apparently told his Texas III% group that they would "do it again" after the storming. On 9 January, he typed out "I have a new security business to circumvent the 2nd Amendment issue. TTP Security Services LLC", describing his attempts to use a business to acquire more deadly weapons for his group, "Website is under construction but business is licensed with Secretary of State, Texas DPS, and Texas Board of Private Security. We can get ammo and weapons available to law enforcement. We have an interior certified training officer. Join us and lets take back our country. The fight has only just begun."
Reffitt later also added "I'm not done yet. I got a lot more to do. That's the beginning." according to documents submitted to the courts.
Timothy Hale-Cusanelli, a US Army reservist and security contractor with secret-level clearance, was charged this past week for taking part in the J6 storming. He was well-known around his base as a Nazi and anti-Semite (34/44 of his colleagues interviewed by NCIS agreed that he held "extremist views" about Jewish people, minorities, and women). He even was disciplined by a superior for wearing a Hitler mustache around the base, of which he took selfies still on his phone at time of arrest.
Roger Stone appeared in two court filings this past week, provided as a link between Oath Keepers charged by the DOJ. Oath Keepers texted ahead of J6 about the security detail operations for Stone at the rally. Jessica Watkins, who faces conspiracy charges, said that it "sounds like a sweet gig". No case has yet been submitted against him, though it seems almost inevitable at this point.
A riot suspect and former south Georgia police officer was denied a request to sell guns while awaiting trial. The request came as part of a proposed bond modification and was denied by the judge.
The wife of an FBI task force member was arrested this week for her connection to the J6 Capitol storming. The woman, Jennifer Marie Heinl, had been in contact over Facebook with another J6 participant for weeks to plan travel to the gathering.
Capitol security measures are set to scale back a bit due to a 'lack of threat' two months after the storming.
Not DC related, but a Seattle Nazi plead guilty for his threats against media in Olympia, Washington on 6 January. He was given 6 months for the threats. No media seems to have reported on the fact that during his verbal assaults of press and pro-Trump demonstrators, he had a Hitler Youth style knife attached to the webbing of his plate carrier: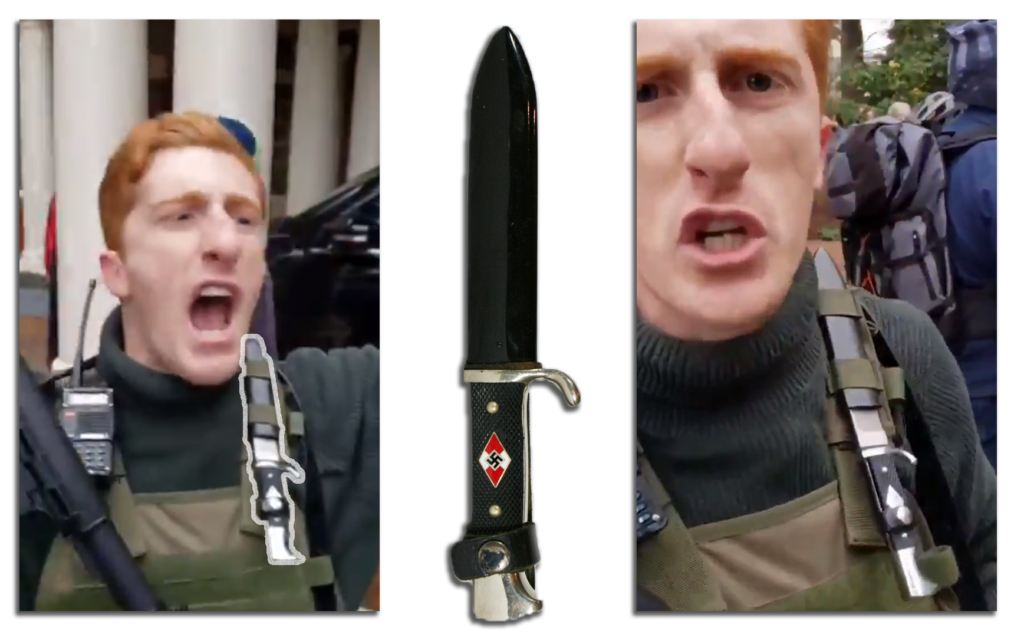 ---
Michigan updates
In the Wolverine Watchmen court proceedings, Paul Bellar's role in the plot has been discussed this past week. One story from the trial involves a 3 May 2020 trip to a Home Depot parking lot to buy a firearm. Several members of the militia group were there as 'backup' because they were worried that the seller might be an undercover officer or federal agent. Bellar was allegedly looking through the scope of his rifle at people entering the store to see if he could spot any undercover officers. The informant, who was wearing a wire, told Feds to keep police clear of the area to avoid a possibly lethally violent situation should they arrive on scene by chance.
Joshua Doctor, another Michigan man, was also charged this week with threatening to kill Joe Biden, Nancy Pelosi, and Michigan Governor Gretchen Whitmer. He said he wanted to "be the catalyst" for the next American civil war, according to the charges. He was also fairly explicit, saying he would "use a gun to shoot and kill the elected officials".
---
Other misc updates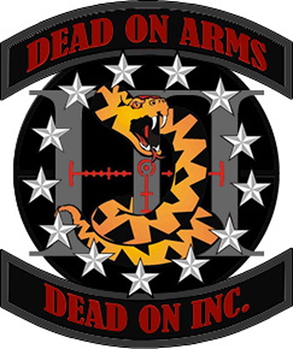 Gun shop owner Chad Walsh, who is suspected of links to III% movement, is running for sheriff. He was previously the center of controversy as he refused to close his indoor shooting range after lockdown orders came into effect. He even alluded to the reason the III% is called the Three Percent, saying in an interview the widely discredited figure that, "three percent of colonists when we fought the British stood up and fought for us." After his shop closed, Walsh became a police officer for Moose Lake PD in Carlton County, adding that he "really enjoy[s] being a police officer."
Timothy John Watson, the man who ran the Portable Wall Hangers site and store, plead guilty to a weapons charge this past week.
The Office of the Director of National Intelligence (ODNI) put out a report on "domestic violent extremists" this past week that lumps together right-wing militia groups and anti-capitalist anarchists under an "anti-government/anti-authority violent extremists" label. It is a fairly incoherent summary table and 4 page report, to be fair, as "animal rights/environmental violent extremists" are also equated in the same way to far-right actors. The ultra-vague "racially or ethnically motivated violent extremists" is also included on the table, which itself has provided cover for intelligence operations to pursue 'Black Identity Extremists' alongside white nationalists, even after the former term was widely identified as reason for concern by human rights legal organizations. It doesn't appear in this table explicitly, but there have been transparency concerns about this, even though the FBI claims to have abandoned the term 2 years ago. Here's the ODNI report table for reference: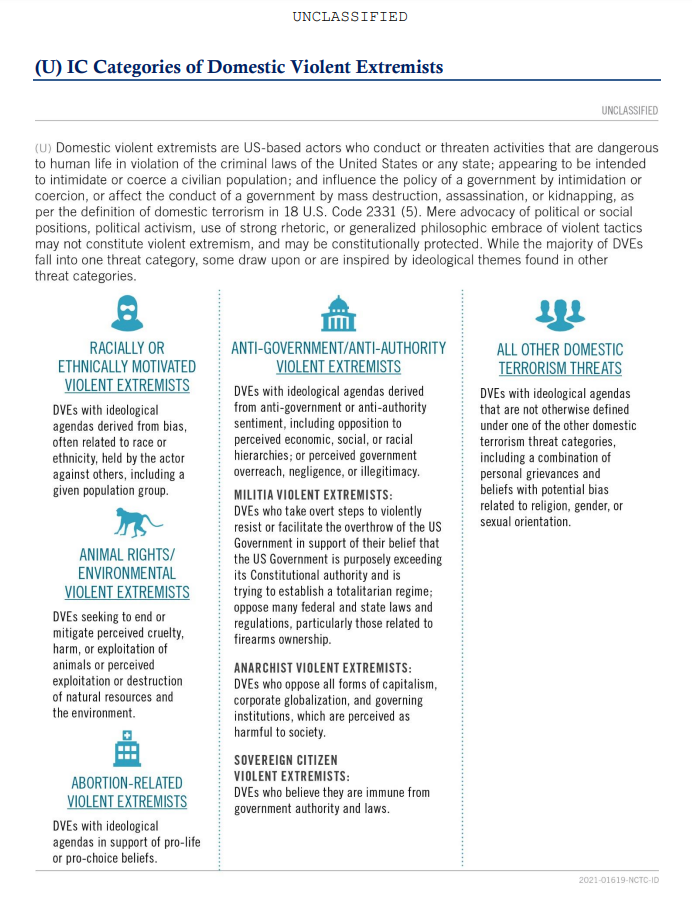 ---
Further reading:
On Palmetto State Armory lobbying Congress despite their obvious Boogaloo products (The Trace)
On Ammon Bundy's move to 'anti-mask martyr' (Vice)
On J6 suspects trying to do PR work in the meantime (Daily Beast)
---