---
The last week has been a big one, to say the least! Here's a weekly update covering some of the following, in very broad strokes:
The storming of the US Capitol Building
Militias and other militant far-right groups show at multiple state capitol buildings
Social media platform revolt
You've likely already read a lot of this, given how high up in the news it's been this past week, so this one is going to be mainly for record-keeping.
---
The "Storming of the Capitol"
No real summary of this is needed, as far as MilitiaWatch is concerned. However, from a MilitiaWatch perspective, the extent of militia involvement is worthwhile to document here.
For a full overview with documentation from on-the-ground reporters and screen captures, please reference the following Twitter thread:
Groups present at the Capitol ahead of and through the storming (both militia and far-right represented here):
Sons of Liberty New Jersey: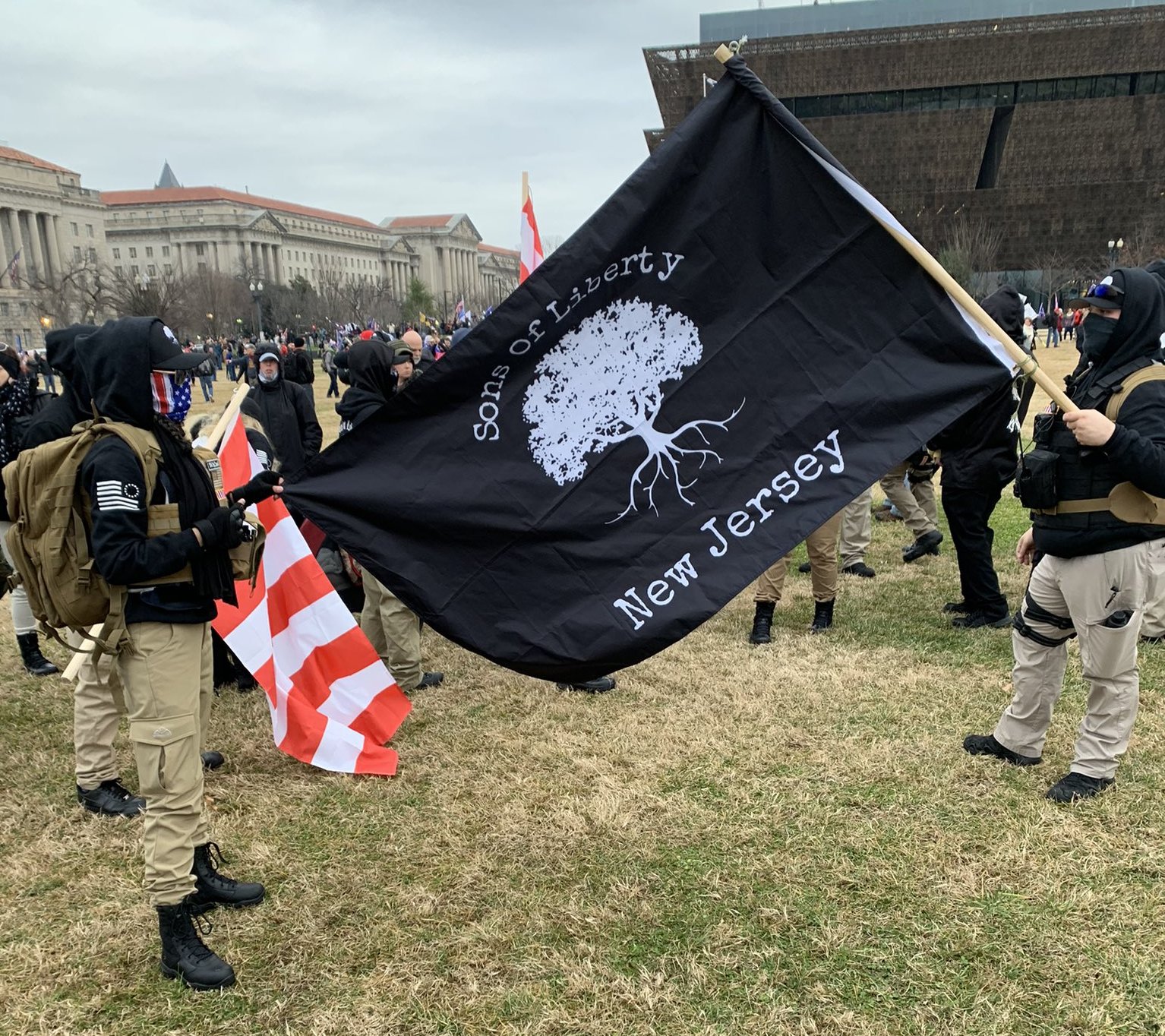 Relatively new militia group, distinct from the Illinois Sons of Liberty that many people likely have heard about in some regard. Note their matching uniforms and their evocation of the "Tree of Liberty" on their flag. The tree is a reference to a Thomas Jefferson quote popular with the armed right: "The tree of liberty must be refreshed from time to time with the blood of patriots and tyrants. It is its natural manure."
The quote was written by Jefferson to a diplomatic official in London in late 1787 (four years after the end of the American Revolutionary War). Jefferson wrote the Declaration of Independence but, notably, was not involved militarily in the US Revolution.
America First / Groyper Army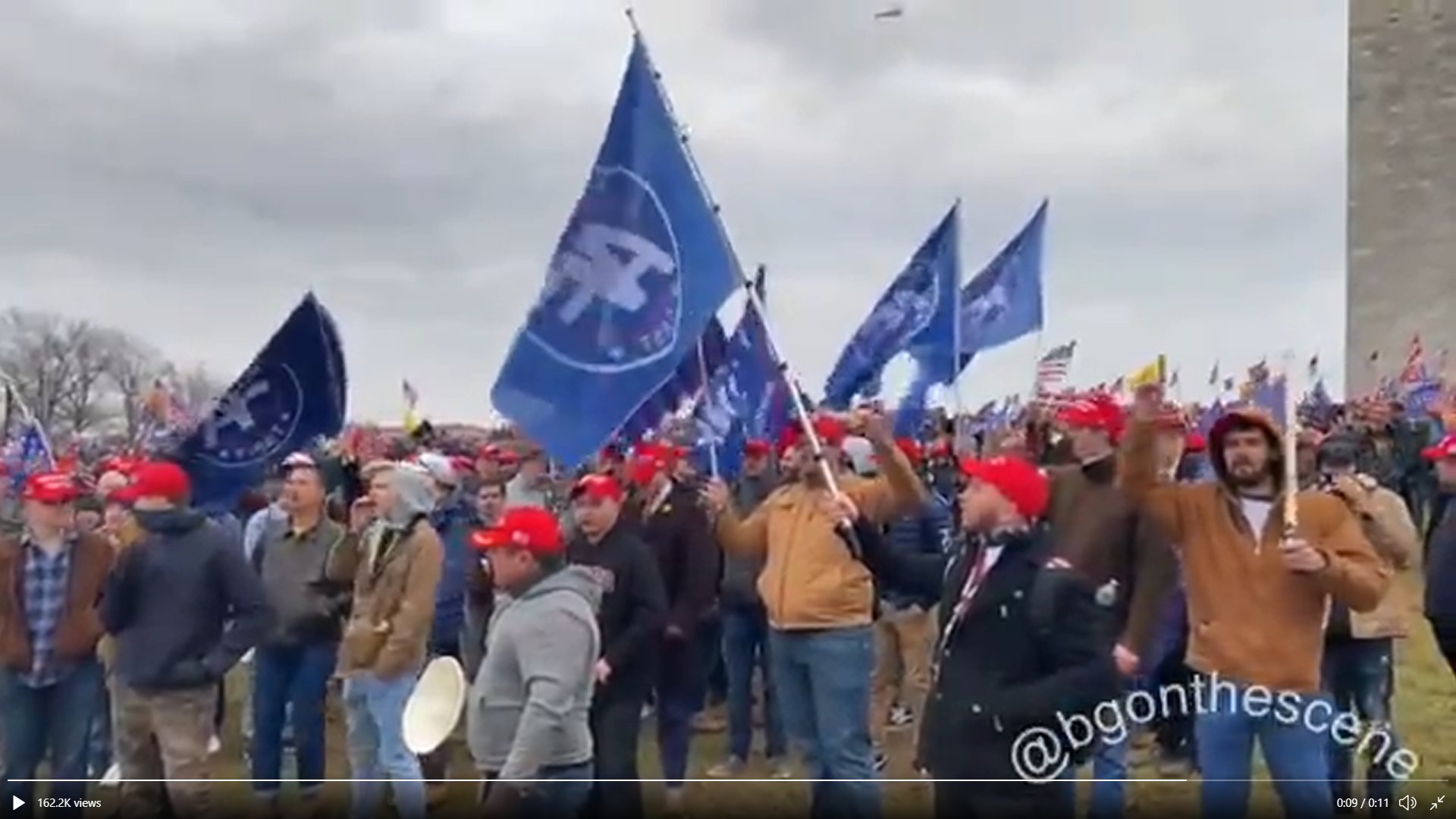 Led by Unite the Right attendee Nick Fuentes, America First represents a burgeoning Christian neo-fascist movement skimming momentum off of the MAGA and Stop the Steal movements.
Oath Keepers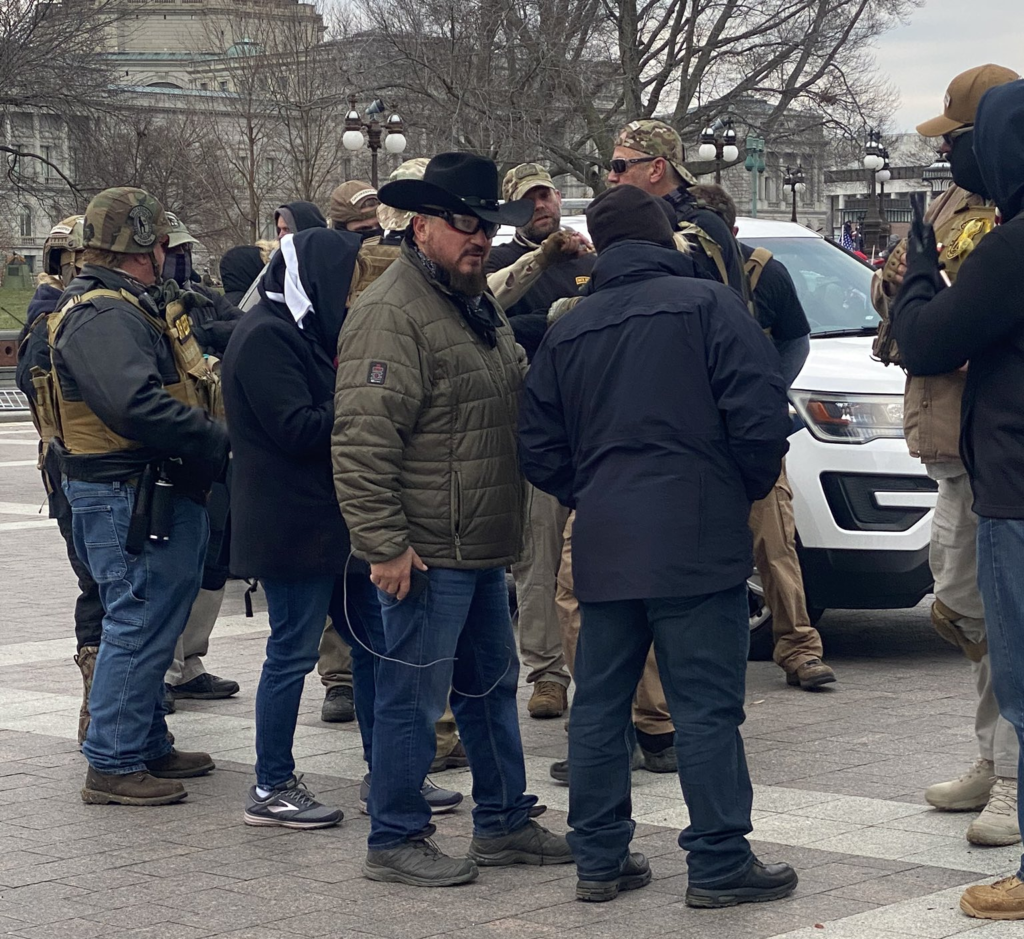 Oath Keepers were founded in 2009 after Barack Obama's winning electoral bid, and draw from veterans and law enforcement agencies for their membership. They swear to uphold their 'oath' to 'defend' the US from "all enemies foreign and domestic".
Proud Boys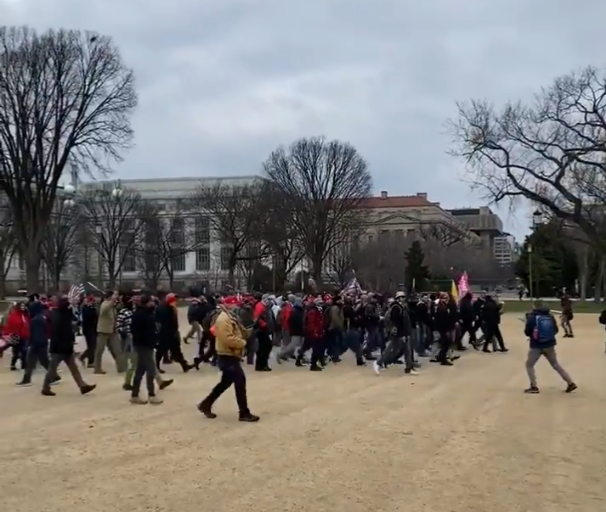 The Proud Boys are a far-right street fighting organization that claims to be a "western chauvinist" or "men's drinking club" organization. It was founded by VICE founder Gavin McInnes, who now claims to have left the group.
Three Percenters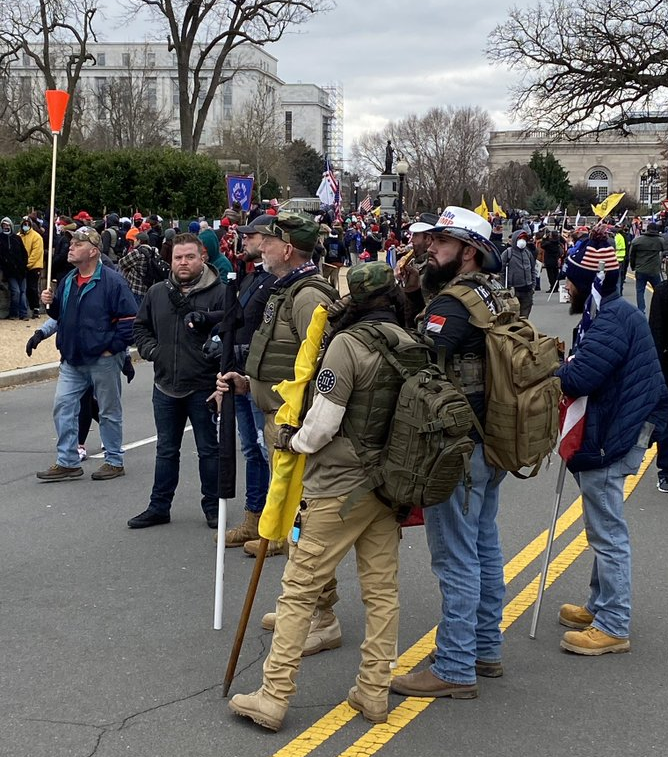 The Three Percent movement, like the Oath Keepers, were founded in reaction to Barack Obama taking the White House. The III% movement is full of fractures, splinters, and independent groups, making it often difficult to discern networks and coalitions of demonstrators who claim to be III%.
NSC-131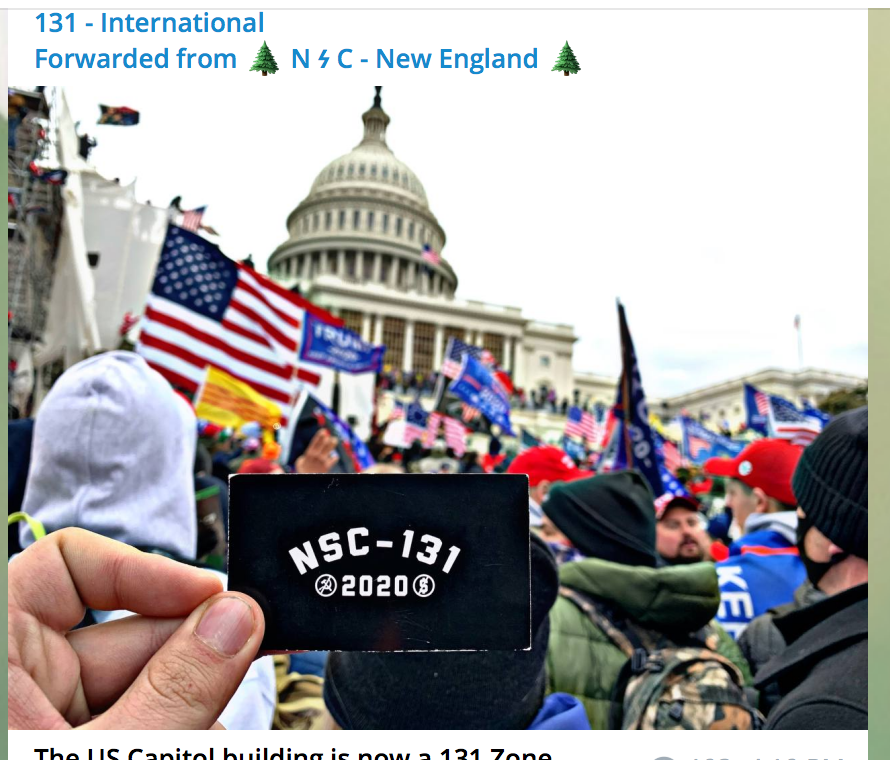 The NSC-131 is a New England-based neo-Nazi group. NSC stands for "National Social Club" ("National Socialism" being Nazism) and 131 refers to "ACA", for "Anti-Communist Action". NSC-131 were not publicly identified at the rally but a member posted to a closed Telegram channel that they were in attendance. Since this is a good bit outside the purview of usual MilitiaWatch writing, here's an ADL profile on the group.
More groups were likely present and not identified by their brand of icons and symbols. It's likely that this will remain a developing story, particularly as boasts and/or arrests come out in the coming weeks.
---
Other State Capitols also protested on 6 January
Many other capitals had organized protests set for 6 January, and several of these had armed and militia contingents show up. This is not an exhaustive list, but a few to highlight:
Lansing, Michigan
A member of the Michigan Liberty Militia attending the Lansing Michigan rally on 6 January had the following to say to a Patch reporter about the Michigan Wolverine Watchmen arrested late last year:
"All I can say about that is that they are not guilty. I know them guys personally and that's not the case," he said. "It will all get played out in court and we'll all find out the truth."
This admission is not particularly surprising that a Michigan Liberty Militia member is personally connected to the Wolverine Watchmen, given the substantial evidence that the two are intricately connected.
Recall that over a dozen alleged Wolverine Watchmen members were arrested and charged in October 2020 for their plans to kidnap Michigan Governor Gretchen Whitmer, after which they planned to put her on 'trial' at a secure location. Brian Higgins, one of those charged, appealed his extradition request this past week and was denied.
Olympia, Washington
In Olympia, Washington, armed protesters marched from the State Capitol to the governor's mansion. Armed protesters among them shouted up at the mansion. Among these armed individuals, a man with a Hitler Youth dagger hitched to his shoulder webbing screamed, "Kill all Boomers!".
Salt Lake City (UT), Columbia (SC), and Salem (OR), Tallahassee (FL) and more host Proud Boys
Proud Boys featured quite strongly in J6 state capital showings, from Utah to South Carolina, to Oregon, to Florida, to Ohio. In many cases, they got involved in street fights or intimidated by force journalists and their political opponents.
Atlanta, Georgia
Organized by local far-right political platform, American Patriots USA (APUSA), a few armed protesters gathered at the Georgia Capitol. Former KKK leader and Unite the Right attendee, Chester Doles, read from a script denouncing the election result. III% Security Force lead Chris Hill was also in attendance. All four of these individuals and organizations mentioned in this paragraph were part of an MW-published network map around Kelly Loeffler, who lost her election this past week.
---
General follow-up
The follow-up to the J6 action in DC and state capitals across the country has led to a bit of a reckoning from a few different fronts. Far-right internet forums exploding with violent threats ahead of and throughout the day's events have faced swift and decisive response from service providers, such as Parler's removal from Amazon Web Services and the App Store.
The dust hasn't quite settled on this story yet, but these and other actions, such as Twitter's ban of Donald Trump's personal account, are likely to have massive impacts on this moment as we look towards 2021.
---