---
MilitiaWatch took a break from weekly updates last week so this week's update covers the last two-ish weeks. Here are some high-level highlights:
"National Popcorn Day" Boogaloo planning unearthed for Inauguration
First active-duty officer arrested in connection to J6
Kenosha police release token trophies
Polo-wearing AR-15 brandisher runs for office
DHS establishes CP3
---
J6-related and other legal updates
A hack and subsequent dump of 250 gigs of data from the Capitol police has yielded a treasure trove of information about the J6 storming of the US Capitol Building and what happened in its wake. Perhaps most relevant to the MilitiaWatch angle, though, is an extensive line of inquiry about a Boogaloo cell's discussion of attacking landmarks in DC around the inauguration as part of a plan referred to as "Operation Stormbreaker". This includes a map of "high" and "low" priority targets as well as identified fortifications throughout the city. The National Guard, fearing this could be indicative of Boogaloo operations for "National Popcorn Day", even deployed troops specifically to the power plant behind the US Capitol Building, predicting it would be a target by the far-right armed activists.
A major in the Marine Corps was arrested on 13 May on charges related to the storming of the US Capitol Building. The man, Christopher Warnagiris, is the first active-duty military officer charged and the 440th person overall charged since the state began investigating the storming.
Guy Reffitt, the Texas Three Percenters J6 attendee who threatened his children in an attempt to frighten them from turning him in to the feds, says that some J6 defendants are now referring to their social group behind bars as the '1/6ers'. Reffitt also claims that they sing the National Anthem every day while awaiting federal trial. The '1/6ers' are described as "people chatting about things", but a letter from jail authored by Reffitt reads more like a commitment to the exact politics and actions that landed Reffitt and his buddies under federal scrutiny. It leads, of course, with the following sentence:

The California man who threatened to "battle" against Democrats apparently had a III% decal on his car. The man has now claimed in court that he built the five fully operational pipe bombs "for leisure functions solely".
One of the United Pharoah's Guard Boogaloo adherents from Louisville pleaded guilty to encouraging a riot in the city on the same day as the storming of the US Capitol Building in DC.
A charged Wolverine Watchmen member has agreed to cooperate with prosecutors for a more lenient charge related to his alleged involvement in the plot to kidnap the governor of Michigan. Maxwell Wyckoff has agreed in his plea deal to help the state in the ongoing investigation into 8 men directly involved with the militia cell.
---
Kenosha Koins
The Kenosha County Sheriff's Department has released challenge coins to show appreciation for the police who came to Kenosha in the wake of the police shooting of Jacob Blake. The police response not only included police officers thanking armed white vigilantes on camera – throwing them water bottles and thanking the group that included Kyle Rittenhouse – but resulted in a situation where an empowered Kyle Rittenhouse shot three demonstrators, killing two.
Challenge coins are not documents and are often purchased by individuals and circulated around departments, so FOIA requests are unlikely to turn many up. At least three different challenge coins related to the August 2020 unrest have been publicly identified – a 'Thin Blue Line' one, an extremely busy "CIVIL UNREST – 2020" one featuring the crest of the Kenosha Police, and one that shows a row of police in riot gear reading "HOLD THE LINE". All are displayed below: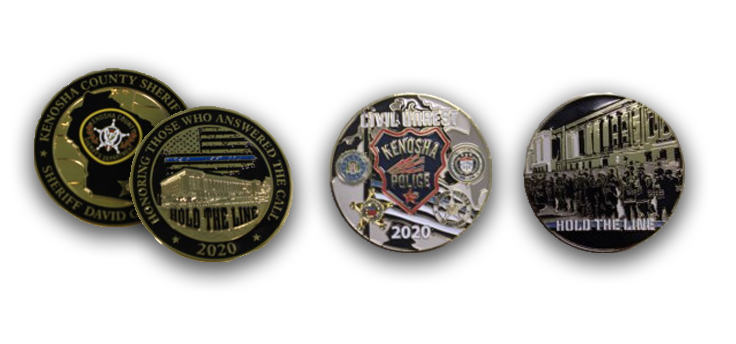 ---
State politics
A Colorado GOP legislator spoke at a QAnon-linked anti-vaccine rally at the Colorado State Capitol Building. She encouraged the adherents of the loose-knit network of conspiracy theorists to "continue to broadcast the facts". Representatives from the 'totally-not-a-militia' armed paramilitary militia group United American Defense Force also showed to the rally as 'security'. The UADF, as they are known, was encouraged by the event's organizer not to show up after the group's leader, Joe Oltmann, was denied a speaker role at the rally.
Washington Governor Jay Inslee signed a bill on 12 May that bans open carry of firearms at protests and at the State Capitol Building. SB 5035 also bans knives, bats, and more within 250 feet of a permitted protest anywhere in the state.
Mark McCloskey, a man most famous for pointing a gun at BLM demonstrators outside his home, has announced he is running for US Senate. In an absolutely absurd campaign announcement ad, the wealthy St. Louis lawyer poses in a flannel shirt, gold cross necklace peeking through his unbuttoned shirt. He leads the ad "when an angry mob marched to destroy my home and kill my family I took a stand to defend them" as images of him and his wife brandishing firearms outside of their mansion flicker on the screen. Pastoral images of a dog running around open fields and McCloskey waddling across the screen wielding a chainsaw are backed by a proof-of-life reading of a script that hits all the predictable talking points. As the ad switches gears, McCloskey walks around dilapidated areas of St. Louis (still wearing his working-class costume), shaking his head at BLM signs as he says "Cancel Culture" and "Critical Race Theory" are ruining the US.
A III% sticker identified on a Pennsylvania power company truck was removed from the utility vehicle and the company has begun an internal probe into the logo's appearance on the truck. It appeared alongside a 'Thin Blue Line' flag decal.
---
DHS rebrand kills 'CVE'?
The DHS just went through what may be a "rebrand" or a fundamental change to their "PVE" department, now calling themselves the "Center for Prevention Programs and Partnerships" (or CP3). While it does mark a shift from Trump in actually seeking to engage with far-right extremism instead of just chasing 'antifa' and 'jihadis', a lot of the language around it is decidedly pretty nebulous. Jargon abounds as representatives describe its "whole-of-society" approach to "building resilience" in communities, etc.
Some proponents of the change have said it "marks the end of 'CVE'", a direction that means "interventions will be *evidence-led*". This calls into question every single bit of action prior to 11 May 2021 as thereby labeled outside of the rigor of basic 'evidence'. So why are old definitions and descriptions carried forward into this new paradigm? It is important to note here that "Domestic Violent Extremists" per a March 2021 DHS report, includes "pro-choice" and "animal rights" activists at a comparable threat profile to "racially or ethnically motivated violent extremists", a subsection that probably includes neo-Nazis and white nationalists.
---
Further reading:
On the US military's 'white supremacy problem' (New Republic)
On the difficulties of stopping militia groups (538)
---