---
This week, another update with the following included:
More J6 updates, including a terror designation by Canada
Rittenhouse not at home, bond terms to be further revisited
New GA militant coalition announced
Sugar Pine mine case moves forward
Michigan pursuing further gun restrictions
GOP candidate posts threatening message, photo of noose
---
J6 updates
2 more Proud Boys were indicted on conspiracy charges. Both are from New York and were charged for their involvement in removing metal barricades and stealing a riot shield from Capitol Police. This week, Canada also designated the Proud Boys as a terror group.
Perhaps in reaction to a piece written by Cynthia miller-Idriss and Daniel Koehler, the Secretary of Defense has ordered for a review to handle extremism among the military. Of course, conservatives have already responded, calling this process one akin to the "thought police".
---
Rittenhouse bond revisited after failure to update his address
Kenosha shooter Kyle Rittenhouse was not at his home when checked on this week, prompting prosecutors to seek higher bond and to arrest the teenager.
Alongside this, lawyers dropped a federal lawsuit against Rittenhouse, the Kenosha Guard, the leader of the Kenosha Guard, the Boogaloo Boys as a whole, a man who identified himself as a Boogaloo Boy present in Kenosha the night of the shooting, and Facebook. The suit was built on a Reconstruction-era federal law made to counter the KKK and no reason was provided for dropping the case.
---
New far-right militant coalition built in GA
The American Patriots USA (APUSA), a far-right organization created by former KKK leader Chester Doles, announced that they had formalized a relationship with the Georgia III% Martyrs. Within the announcement, the APUSA also repeated their connection to the American Brotherhood of Patriots III%, which was present at the far-right Stone Mountain rally last August.
A previous MW piece covered the linkages between militia groups, far-right social movements, and GOP politicians. This coalition means that network has grown ever tighter.
---
Other legal developments
The Sugar Pine mine court case over the 2015 militia standoff advanced this week. Miners and the government shared their testimonies this week.
A Michigan gun bill sponsored by Tana Senn seeks to ban open carry in any way that would make people feel threatened. The bill is largely in response to the occupation of the State Capitol Building last spring. It is obviously already making some waves among militia information spheres.
---
More GOP shenanigans
Texas gubernatorial candidate Martin Holsome posted a picture of a noose on 15 January saying, saying to "let 'em hang by the neck until they are dead":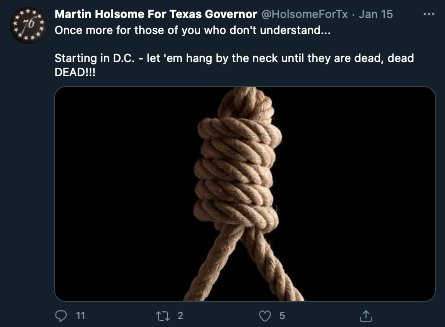 Notable in the text (beyond the obvious) is Holsome's inclusion of three exclamation marks, a dogwhistle many III% followers include to allude to their ideology. Which, of course, Holsome confirmed by posting the following on 30 January: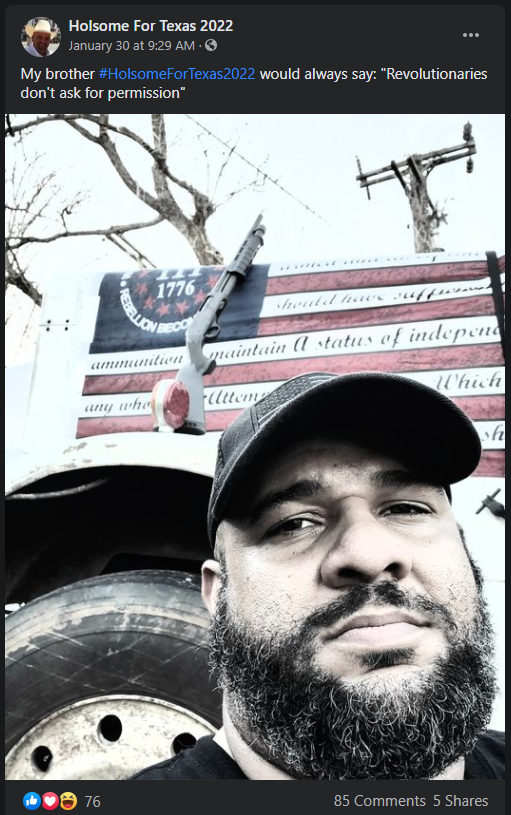 Note in the above the III% flag in his background. His Twitter and one Facebook account are now down, but the campaign page from which the above image was posted is still online.
---
Further reading:
---