---
A day late here (sorry), but here's a quick weekly update on the militia world for the week proceeding our current. It includes a conviction for a 2017 militia's bombing of a mosque, threats against GOP officials in Georgia, a fight in a parking garage in Atlanta, and a few articles to peruse on the Oath Keepers.
---
White Rabbits leader found guilty
Michael Hari, of the "White Rabbits" militia, was found guilty on all five counts for his role in the 2017 bombing of the Dar Al-Farooq Islamic Center located in Bloomington, Minnesota. The militia group organized in part on popular militia group finding site MyMilitia, where Hari asked other site visitors to push back against the "abuse of the people in Clarence[, Illinois]" at the hands of the FBI and police. The conviction carries with it minimum sentencing of 35 years.
More information on the trial and conviction available at the Star Tribune here.
---
Threats against election officials in GA continue, including from militia
Spurned on by both outgoing US president Donald Trump and a handful of right-wing lawyers, far-right activists have been making threats against GOP officials in Georgia for weeks now. A report from this week details some of the threats.
Chris Hill of the III% Security Force militia had videos on his YouTube restricted for making threatening content to this end and his account was banned on 12 December after bragging about beating 4 "antifa" in after a "Stop the Steal" mobilization in which his cohort was involved. More below:
---
Atlanta Militia gathering results in gang assault, YouTube ban
Chris Hill's III% Security Force, Eric Braden's Southern Patriot Counsel (yes, "Counsel"), a third unidentified militia group all convened to join a "Stop the Steal" mobilization in downtown Atlanta on Saturday, 12 December. While at the rally, militia members discussed their desire for "citizen tribunals" to try "traitors" to the Constitution.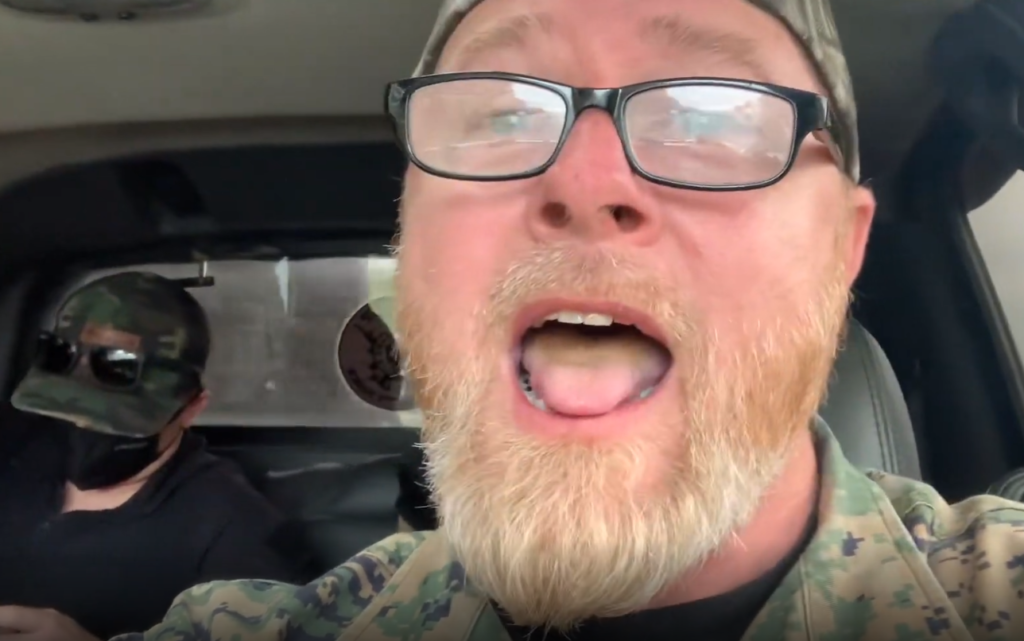 A contingent of antifascists with barrel shields was held by police barricades across the street from the militia groups. A pickup truck carrying multiple militia members in its bed drove downtown and a tense moment between armed leftists on the street and armed militia members on the top level of a nearby parking structure also occurred.
Chris Hill's pick up truck had a tire slashed and his group jumped four people Hill claimed to be "antifa", though their identities are unclear. Hill and his group drove around the parking garage looking for people to attack who to them looked like "antifa", whom Hill admittedly didn't himself believe to be associated with the cutting of tires of his truck.
Hill then went live on YouTube in his truck as he was leaving Atlanta to boast about the gang assault of these people, saying "I kicked yo' ass, I kicked you in the ass and put your face into the side of a building". While streaming and driving (thereby once more breaking Georgia's hands-free driving law as is Hill's custom), the voice comms of his III% Security Force Zello channel could be heard checking in and celebrating "operator82" breaking someone's phone in the scuffle. The video was removed within a few hours and Hill's YouTube account banned shortly thereafter.
On the same day, an antifascist was shot in Olympia and Proud Boys rioted in Washington, DC.
---
Finally, there were two more articles written about the Oath Keepers this past week. One at Politico about Texas happenings and one at Refinery29 taking a more broad approach.
---
Edit: 16 December 2020 – Amended and clarified some information about Hill's gang assault of "antifa" in Atlanta to indicate that the attack didn't happen in a parking garage, but after the militia drove around downtown looking for someone to harm.