Happy New Year, MilitiaWatch readers! Here's the first monthly update of 2023, covering the last month of 2022. While activity was a bit lower in December on the militia front as far as news stories go, mobilization was a key fixture of this month. In order to keep things brief, this monthly focuses on a small grouping of key happenings from December.
Also, just in case Twitter is where you follow MW, please consider following on Mastodon, too (who knows what Twitter policy may be tomorrow or next week, to be honest).
Finally, November's Monthly is available here if you'd like to review what happened previously.
---
Militia Mobilization: Anti-Drag, Alongside Neo-Nazis
In November, the Armed Conflict Location Event Data Project (ACLED) released a fact sheet on right-wing mobilization in 2022, which overwhelmingly hinged upon anti-LGBTQ+ attitudes among activists. This homophobic and especially transphobic wave among the American right has led to a fervor especially over family-friendly drag shows, for which far-right groups such as the Proud Boys mobilized heavily last month, especially on 19 November (see November Monthly).
This month, militia and armed paramilitary groups mobilized to voice their support for anti-LGBTQ+ demonstrations, breaking a previous period of muted mobilization by such groups.
On December 3, members of the Sons and Daughters of America (SDOA), an Ohio militia group, joined far-right demonstrators in Columbus, Ohio to oppose a family-friendly drag show being held at a church. The group arrived in camo gear carrying long rifles and joined Proud Boys at their periphery before discussing with the local police what their intended role on the scene was. The leader of the SDOA, Cayleb "Colonel McNasty" Cooper, is a former III% adherent within Chris Hill's III% Security Force network, though he claims to have disaffiliated and disavowed "Southern militias" in Ohio.
Neo-Nazis from Patriot Front and White Lives Matter also showed up later, as members of the militia group awkwardly patrolled up and down the sidewalk for a portion of the morning.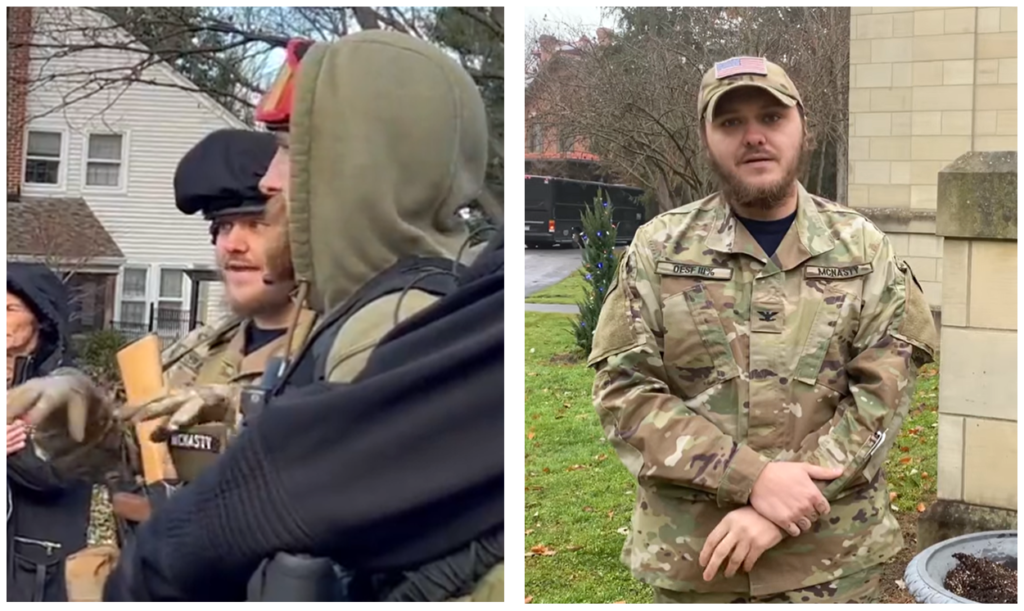 If anyone has tips on this new Ohio militia group, feel free to reach out.
On December 10, a gathering of far-right demonstrators mobilized in Fresno, California to oppose an all-ages drag event at a local church. This mobilization was heavily attended by local Proud Boys, but affiliates of the Central Valley Militia (CVM, a Proud Boys-influenced affinity group that is most well-known for attending "Straight Pride" events in the area) showed, too. The CVM activists, dressed in Proud Boys hoodies, held up a banner bearing an AR-15-style rifle threatening those who engage in "pedophilia".
The militia group known as the This is Texas Freedom Force (TITFF) joined two anti-drag show mobilizations in Texas last month, one in San Antonio on December 13 and another on December 17 in Grand Prairie.
---
Legal Updates: Sentencing, Tarrio Trial, Etc.
Members of the Wolverine Watchmen militia in Michigan, specifically the men involved in planning to kidnap the Michigan governor, were sentenced last month. Most had been convicted back in October and were awaiting their sentences, which are as follows (in order of militia seniority):
Barry Croft Jr: 19 years
Adam Fox: 16 years + 5 probation
Joseph Morrison: 10 years
Pete Musico: 12 years
Paul Bellar: 7 years
Another Michigan man, RB Warrens, was released on $750K bond after allegedly threatening to kill people. Warrens claims to be a member of the Michigan Militia and police found a large cache of firearms at his home, about which police said, "Based on the placement of the firearms throughout the home, it was clear … that Warrens was anticipating law enforcement's involvement and prepared to have a deadly shootout."
Enrique Tarrio, the "chairman" of the Proud Boys during the January 6 2021 storming of the US Capitol Building, is set to go to trial for sedition charges soon. On December 19, jury selection for this trial began.
Representative David Eastman of Wasilla, Alaska, defended himself in court on December 12-16 and 19-21 related to arguments against his qualifications to legislate due to his affiliation with the Oath Keepers. The trial concluded on December 21, with the case against Eastman relying upon Alaska's Disqualification for Disloyalty clause in their constitution. On December 23, Judge Jack McKenna declared that Eastman may continue to serve the Alaska Legislature and that his membership in the Oath Keepers is protected by his First Amendment rights.
---
Further Reading
A couple of things from December worth your time to read or at least skim:
POGO's Nick Schwellenbach investigated hundreds of Oath Keepers members who worked for the Department of Homeland Security, a Global War on Terror entity that struggles to appropriately consider the threat of far-right action
Spencer Hsu and Hannah Allam write for the Washington Post about the impacts and limits of the sedition verdict against Oath Keepers lead Stewart Rhodes
---