---
After a two-week hiatus from weekly updates focusing on some election-related work, a return for the fourth MW weekly news round-up. It's a long one this week. Here's the weekly(ish) update for 16 November 2020.
---
Million MAGA March
The evolution of the past two weeks' "Stop the Steal" campaigns culminated in a Saturday gathering in Washington, DC, seeking to draw out a million Trump supporters in a show of force against what is perceived as cheating on behalf of the Democratic Party's representative for president, President-Elect Joe Biden.
The name "Million MAGA March" is likely in response to Louis Farrakhan's 1995 "Million Man March" on the National Mall a quarter of a century ago. It's also perhaps worth mentioning that the popular vote gap between President Trump and President-Elect Biden (according to the Associated Press) is a little over 5.6 million at time of writing.
There's all kinds of writing coming out about this gathering of activists, street fighters, streamers, and grifters in DC. A MilitiaWatch piece is sitting in the draft folders for a later date while more information continues to come out about the event, but there's already a litany of great investigative work on the event available by the SPLC ahead of the march here, a rundown on Yahoo here, and a great bit of reporting on Paul Gosar's Arizona work ahead of the march on Huffington Post here.
Proud Boys obviously played a large part in the march on the streets, and in particular the violence surrounding the march. Most militias either pre-positioned outside of DC, such as Stewart Rhodes' Oath Keepers, who he claimed were forming a "QRF" (quick reaction force) should President Trump call on him. Many other militia activists left their rifles at home and elected to arrive either unarmed or with concealed carry (legal or otherwise). It's worth noting that DC Concealed Carry Permits were a point of frustration among many militia types as DC's reciprocity laws are tough for a lot of states from which militia members traveled. Below is a map from the US Concealed Carry Association detailing the relationship DC has with other states.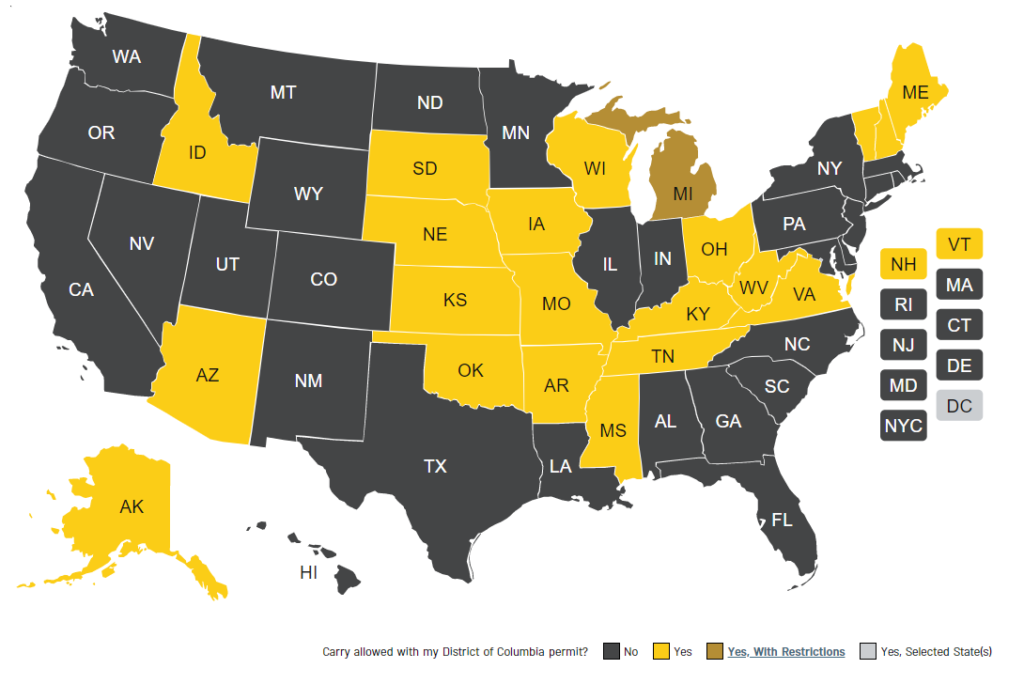 ---
MyMilitia updates
MyMilitia is a shopping center for militia recruitment, allowing both recruiters to advertise their militias and interested parties to look around for a militia fit in their communities. It breaks down its site into groups, with the site relying heavily on a local designation of militia coordination along area codes. There have been several key stories about this site recently:
VICE News, about the site generally, here
RollingStone, about Brian Maoirana's use, here
Guardian, about tech companies behind MyMilitia, here
The site is run by Josh Ellis who uses the username "LetFreedomRing" to admin the site and runs the American Revolution 2.0 YouTube channel. The site architect, Chad "Fixer" Embrey, was discovered providing server space for Neo-Nazi music label Tinnitus. After this news broke, Embrey announced on the militia forum that he would be transferring ownership of the site over to Josh Ellis. Despite this, emails this week from MyMilitia include a promoted ad link using the username "chade758" ('Chad E.') so he's almost assuredly still involved.
Relatedly–
---
MyMilitia user and Staten Island resident arrested this week
David Maiorana was arrested on claims including that he made death threats on the site, where he went by the name "Proud Patriot Sailor". He reportedly also added that "carnage needs to come in the form of extermination of anyone that claims to be a democrat".
Maiorana is just one of many users making aggressive claims on the site. Also relatedly–
---
White Rabbits member agrees to testify against leader Michael Hari
The White Rabbits militia, which organized in part on MyMilitia, has seen some updates in the pending court cases against members who bombed the Dar Al-Farooq Islamic Centerin Bloomington, Minnesota.
Just ahead of the group's arrest, Michael Hari posted on MyMilitia, asking members to come to his group's aid. They claimed that they sought to push back against the FBI and local police's "abuse of the people in Clarence[, Illinois]".
One of the accused, Michael McWhorter, has agreed as part of his plea deal to testify against White Rabbits leader Hari. Details on the case available here, and with continued updates from the Star Tribune.
But MyMilitia isn't the only social media making headlines this week for their work alongside militia organizing:
---
Parler, MeWe, Rumble, and more making news around militia and armed-right wing activity
VICE detailed how many of these "next generation" social media platforms are creating a new "right-wing echo chamber" after crackdowns on violent rhetoric and disinformation elsewhere. Perhaps not so ironically, some of these spaces are rife with bans for those expressing opinions that are left-wing, anti-fascist, or otherwise not-right-wing.
There has already been some actionable issues on these sites with this new influx of activity. For example, Chief Lang Holland of Marshall, Arkansas, used Parler to call for the death of "all Marxist Democrats". He also later posted that it was important to "Never let [Democrats] forget they are traitors and have no right to live in this Republic after what they have done". He has since been removed of his post.
---
Wolverine Watchmen update: Fantasies of violence
New court documents submitted by the state detailed that Wolverine Watchmen militia leader Adam Fox's plans were not only quite violent, detailed, and pre-meditated, but also in some part planned on the steps of the state legislature. As described in an article by Eric London here, Fox's "Plan A consisted of recruiting 200 men and then storm the Capitol building in Lansing while Congress was in session. [By congress, the plotters evidently meant the state legislature]. They were to take hostages, execute tyrants, and have it televised. It would take about one week and that no one is coming out alive."
A Plan B was apparently "to storm the Capitol building in Lansing when Congress was in session. They would then lock the entrances/exits to the structure. They would then set the building on fire."
---
Virginia Boog update: 'Choccy milk' affair
The chief of Newport News Police Department, Steve Drew, finally made a statement over providing Boogaloo adherent Mike Dunn a bottle of chocolate milk and a PA system when they arrived to protest against a new open carry ordinance on 15 October. His words have been printed a few different places, but he stated, "I think the citizens should be proud of the department for the way that things were handled… To me, any protest, demonstration or rally that ends peacefully, I think that's the tone we should set."
---